April,Thursday 26, 2018
 April, Sunday 15, 2018
Keeping it simple!
 H loves her new wooden building blocks which her older sister and brothers have been cutting and sanding for her. The wood comes from our garden and I have to say the blocks are lovely to handle. I try to either make toys for H or buy from Etsy when possible, I strongly believe in supporting small sellers.
 April, Saturday 14, 2018
Just right for a bear family to move into.
I stumbled over this vintage dollhouse on Etsy, when I saw it I knew it would be perfect for a little bear family to move into. The house needed some love and care, so my oldest daughter and I started to paint and stick a new floor into the all rooms. The bear house (which we have now officially named it) is meant for my youngest daughter H when she is older. I try to buy second-hand toys as much as I can, you can tell that these toys have had a life and oozes of charm and soul. The wooden bears were picked up on Ebay for a little sum. Now I will furnish the house bit by bit with furniture just right for bears. I am sure that the house will be treasured and played with for hours to come. Have a great Easter!
Here is a photo of our Easter nature table.
Now it is Fastelavn it is a Danish tradition, which I loved as a child. It is a day where the kids dress up and we eat fastelavns buns and hit a wooden barrel filled with sweets. It is a celebration with reminds us that spring is coming.
January Wednesday 4, 2017
Happy New Year to you all, I hope you have a wonderful holiday!
This is a photo of our new advent calendar, I took inspiration from a photo I saw on pinterest and just had to try out. All the drawings are based on nature and the outdoors and although it did take quite long to cut out, it was very exciting when it was all finished and the kids could open a window every day in December. It did really brighten up our dinning room, which we needed in this very dark month of December.
I have included a photo of our winter tabel and I love the purple trees.
September Tuesday 27,2016
Our nature table, we are ready for the shorter days and longer nights. Autumn is here the colours on the tree are changing.
I have constructed this nature table from a seat of an Ikea stool cut in half and painted.
My rainbow autumn fox is ready in my Etsy shop, I love the colours.
July Wednesday 20,2016
I am flag printing in my studio, yes summer has arrived with very hot weather in London!
My small troll collection!
July Tuesday 12,2016
My new house boat cushion, which will be in my Etsy shop soon!
June Thursday 30,2016
New fox cushion design which I am working on at the moment.
I can not get enough of feathers at the moment and my children loves collecting them, we now have a note book full of all sorts of feathers!
My daughter's bedroom.
My youngest son, have been busy make these small figures which he really enjoy playing with, I think they are fab!
June Thursday 2,2016
Is summer coming, well the garden is green as ever and we are out as much as possible.We are having a lot of changeable weather at the moment sun, storm, thunder and light showers.
 My new plant tray in the kitchen, I love it!
We have been making great marbling pictures, my daughter is going to use them for some notebooks.
May Tuesday 24,2016
I can not really believe it,
I am one of the 60 finalists in the 2016 Etsy Awards UK & Ireland!
Kids & Baby
Please vote for my mermaid
Gunna Ydri
Thank you for your support,
it means a lot for a small business like mine!
April Saturday 30,2016
My whale cushions are finished and ready in my Etsy shop, I think it is a really great summer print!
I can't wait for summer!
April Friday 29,2016
The whales are coming to London, this is my new whale cushion print which I am super excited about finishing and getting into my shop.My new pegboard is really fantastic. I have never been so organized!
April  Wednesday 27,2016
I have I bought my daughter a lap harp which is very simple to play, she loves making up her own songs or following music sheets, it is absolutely fantastic. Best gift ever!
April  Tuesday 19,2016
I have a new stockiest a lovey alpacas farm in Scotland, where you can get tours and visit their farm shop.
April  Friday 15,2016
To paint with water colours is something I always have enjoyed doing, here are some of my small paintings that I have been doing over the Easter holiday. My kids have started their own feather collection, which we keep adding to.
February, Sunday 14, 2016
I have been making rope baskets, which was such a joy, I used cotton rope and lots of white sewing thread, and it was lovely to fell the baskets taking shape. Now I will just have to make baskets for everyone I know!
I have a new stockiest
December, Wednesday 30, 2015
Here are some pictures from Christmas and kids activities we got up to, I have to say the weather was very mild but dark we did not see the sun a lot.
December, Monday 07, 2015
Here are some photos from the Etsy made local market in Soho London. We had lots of fun and it was very busy.
November, Saturday 28, 2015
I am getting ready for the Etsy made local Christmas market in Soho London and taking some photos with my dolls and cushions.
A new mermaide stocking in my Etsy shop.
November, Wednesday 11, 2015
Get ready for Christmas,
My Alice doll is featured in Make it Magazine November issue 9.
October, Saturday 31, 2015
Have a great Halloween, we all dressed up as foxes and wolves this year. It was lots of fun to make the masks out of conflakes boxes and pastels.
October, Tuesday 20, 2015
I went to the opening of the Alice in Wonderland pop-up shop at the British Library this evening. The shop looked absolutely amazing and my dolls looked great too.
This lovely cushion is designed by Chá com Letras.
September, Tuesday 29, 2015
My two youngest kids have been collecting natural materials over the past week, so we could make these fun little forest people. It is a great and inexpensive activity and you have all the materials on your doorstep.
September, Tuesday 8, 2015
 Look my rabbit is featured in "What's on" in the British Library gift shop.
Alice in Wonderland pop-up shop
Opens Wednesday 21 October.
August, Monday 31, 2015
At the moment I am working on a large order (Alice in Wonder Land and rabbit dolls) for the British Library gift shop.
Here are some photos from our French summer holiday.
July, Thursday 16, 2015
The weather was great today so I decided to take my Native Indian doll with me out into the garden for a mini photo shoot.
July, Thursday 9, 2015
I am a bit proved I have just made some new wall hooks for my studio all the materials are from my small garden , cool or what!
June, Saturday 27, 2015
My viking girl and and my new green viking boy can be found in my Etsy shop.
June, Thursday 11, 2015
In the last week I have been busy screen printing and sewing more dolls for my Etsy shop,
I think they look great fun together!
New Alice in Wonderland purse and dolls.
June, Saturday 6, 2015
The Vikings are coming, I have just finished screen printing some new Viking girl dolls.
They will be ready in my Etsy
shop soon.
June, Wednesday 3, 2015
Say hello to my two new mini cushion dolls Alice in Wonderland and the Mr Rabbit.
Alice in Wonderland is my all time favourite story book.
May, Thursday 28, 2015
I have just printed some more tepee mini cushions in Waldorf inspired (earth) colours,
I think they look great together.
May, Tuesday 19, 2015
I am very happy to say that my Alice in Wonderland dolls have been picked as one of the winners for the Redesigning Alice Competition and will be in the British Library's gift shop.
Use link below for the Etsy blog
https://blog.etsy.com/uk/2015/05/18/etsy-sellers-redesign-alice
 May, Wednesday 13, 2015
I am working on some new t- shirt designs with pony beads and tassels.
For small girls who loves the outdoors.
Cute for the summer.
April, Tuesday 21, 2015
Here are some of my new Alice in Wonderland inspired products,
which will be in my Etsy shop very soon!
Cushion 30 cm x 50 cm
Alice in Wonderland Dolls Mini cushions.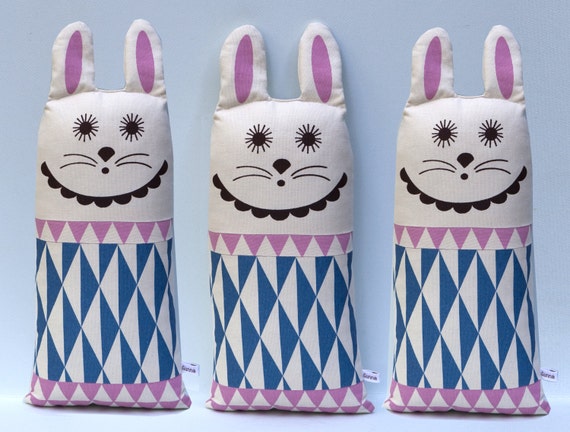 Monday, 30 March 2015
My blue native indian doll has been featured in At Homes magazine.
This is my new homemade lampshade, it took me a day to make.
My new tree which I found on Etsy, it is just beautiful.
Here are some new tepee mini cushion which just have been listed in my Etsy shop.
Thursday, 1 January 2015
Over the Christmas holiday I have been working hard finishing my new
Viking dolls mini cushions and I am happy to say it is now in my Etsy shop.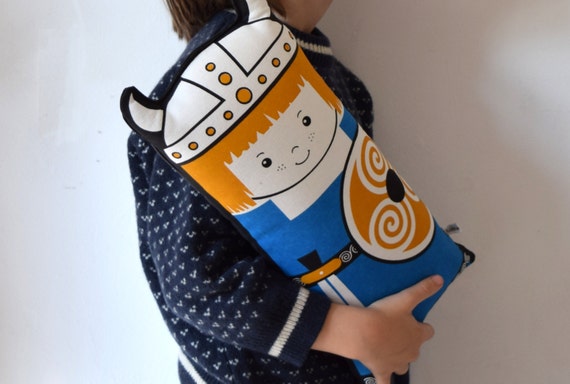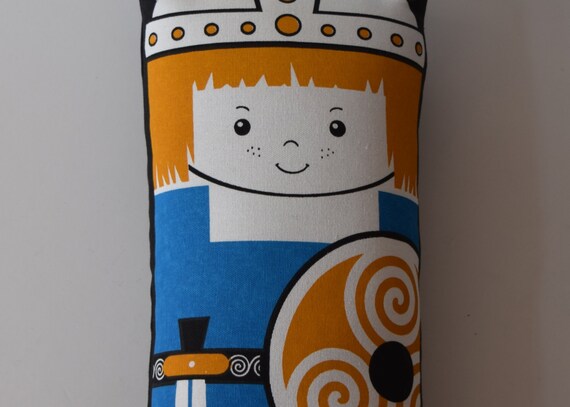 Also I have printed the eskimo doll and the Native American doll in a diffrent colourway.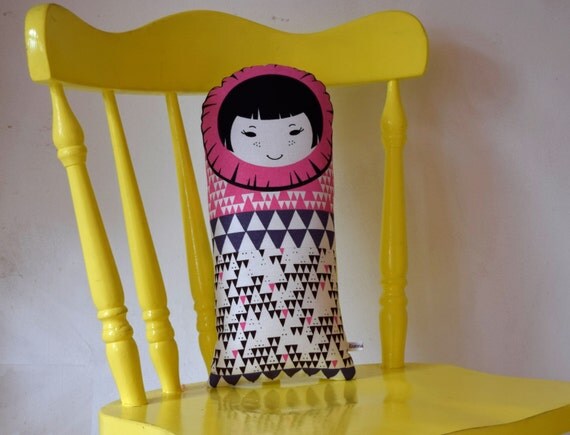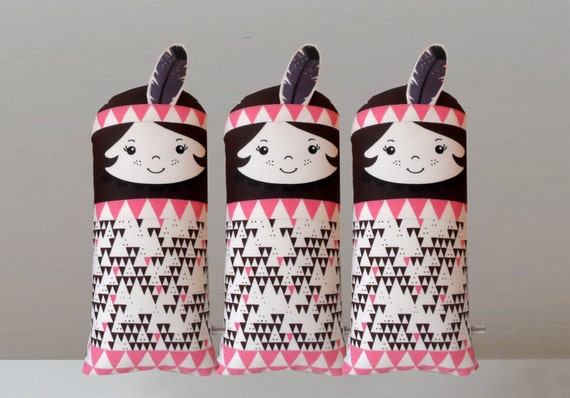 Sunday, 16 November 2014
Red Riding Hood is in town
I found another lovely mentiong of my Red Riding Hood cushion on this fab blog
http://buymodernbaby.com/blog/tag/stuffed/#.VGhh0zSsWSo
Limited Edition Red Riding Hood Triptych by Amy Sullivan- $50+
The Big Bad Wolf Stuffed Toy from Blita- $45
Plush Small Stuffed Bird from Time Handmade- $32
Scandinavian Red Riding Hood Cushion Cover by Gunna Ydri
Little Red Riding Hood and the Wolf from Meu Adorável Iglu- $35
Set of Four Little Red Riding Hood Mini Pillows from titiluli- $40
Thursday, 13 November 2014
I found a lovely mentioning and photos of my mini cushion soft toys (Handmade fair, Hampton Court Etsy tent) on this lovely blog
http://www.photocraft.org/blog-the-handmade-fair/
Monday, 10 November 2014
This weekend I have been printing some more soft toy foxes (mini cushions),
while my two youngest children were painting in the kitchen,
I just love my daughter's finger painting!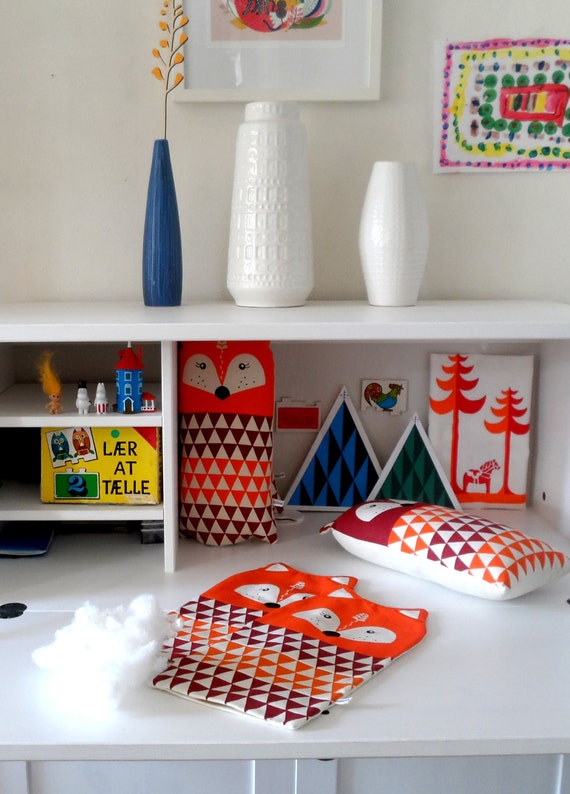 My son painted a monster snowman!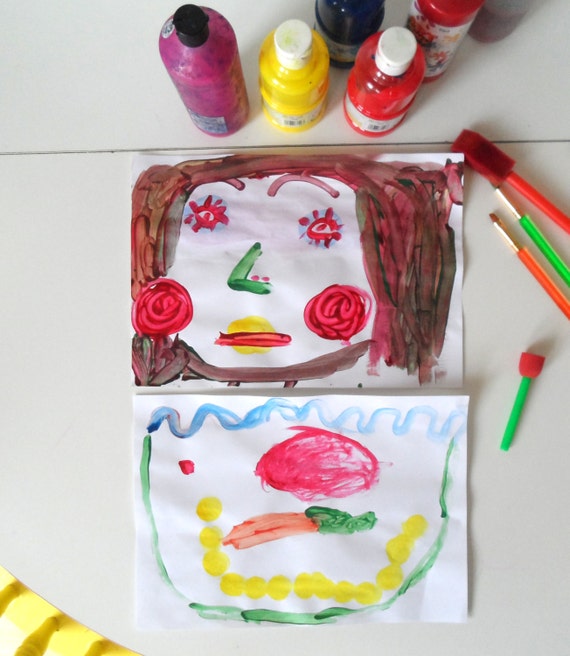 Saturday, 11 October 2014
I am going to have a stall at the Crafty fox Christmas market.
Sunday 14 December
Bussey Building, Peckham
Thurday, 9 October 2014
Say hello to my new garden gnome!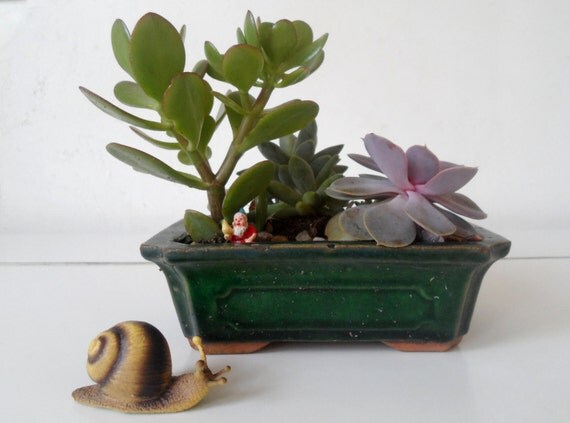 Saturday, 4 October 2014
My stall at Crafty Fox Market, Dogstar Brixton.
There were lots of fab designers!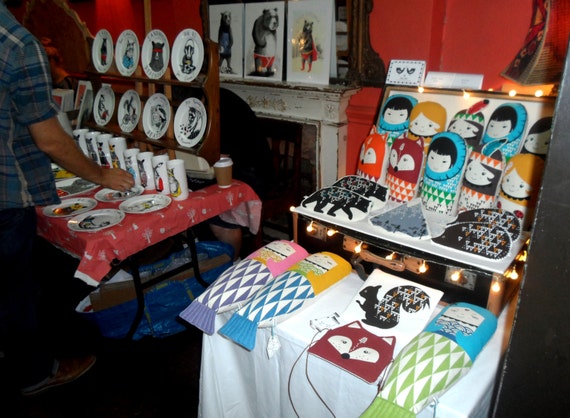 Thursday, 25 September 2014
I have been working on diffrent colourway of the mermaid doll,
who would not like blue hair!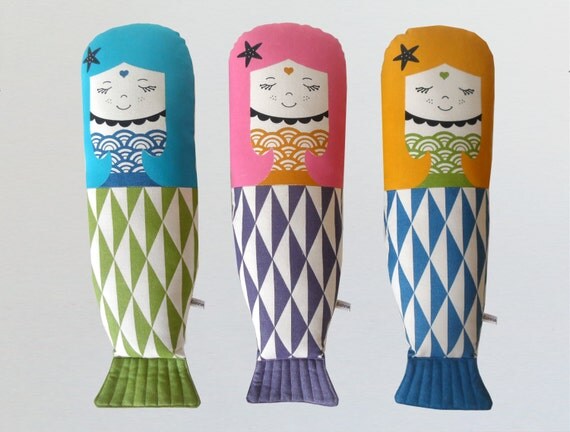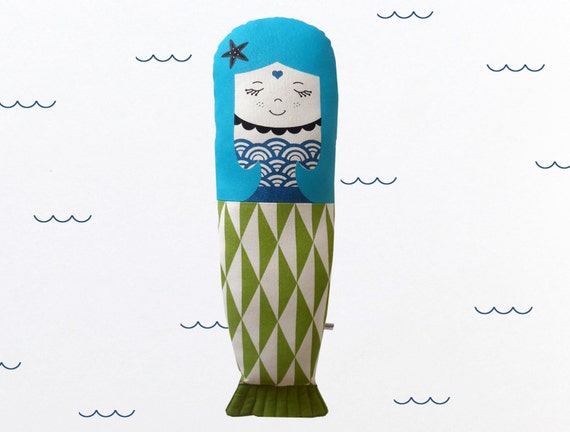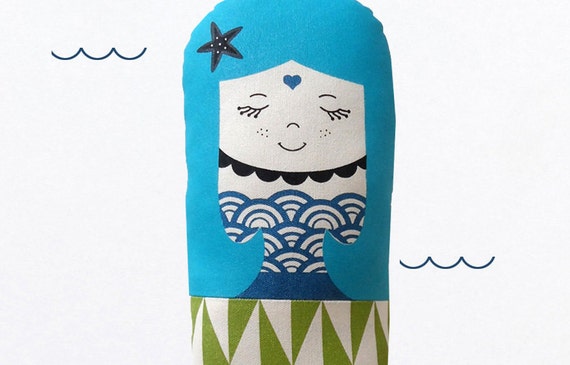 Tuesday, 23 September 2014
I am printing some more Eskimo dolls and Christmas trees.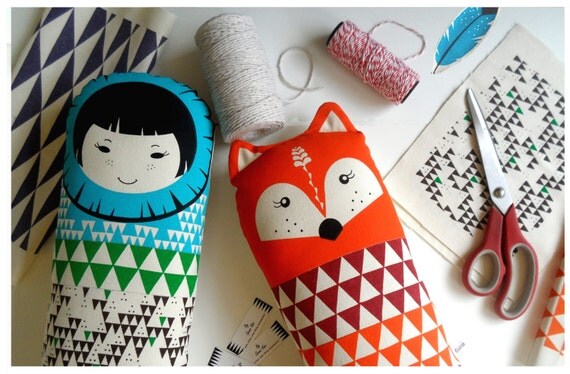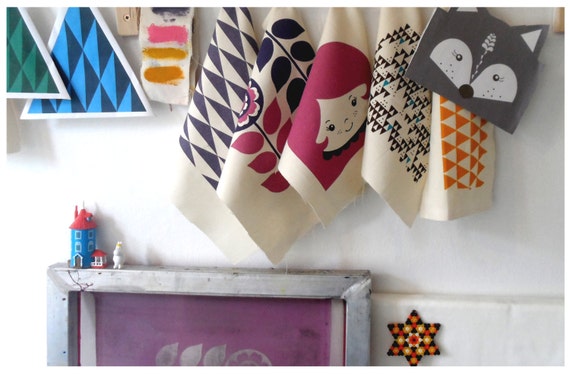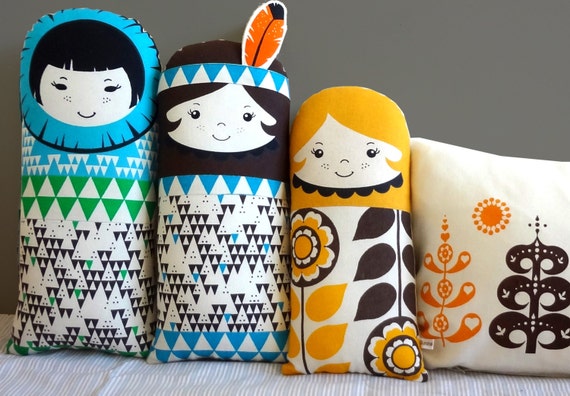 Monday, 22 September 2014
I am going to be at the Crafty Fox market in Brixton on Saturday 4 Oct,
so come along and say hello!
There will be over 50 diffrent traders will be taking part on each day!
Here are some of my new vases from Denmark,
I think the colours looks great together!
The lasercut flower is from a designer called Anna Wiscome,
here is a link to her Etsy shop www.etsy.com/uk/shop/AnnaWiscombe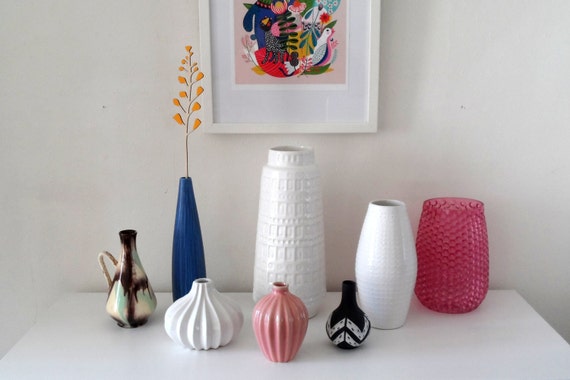 Sunday, 21 September 2014
A photo of my stand at the Handmade Fair and would you believe it was at Hampton Court.  I was in the Etsy tent along with 8 other fab Etsy sellers!
I want to say a big thank you to the whole Etsy team which made this possible!
The Royal garden is just behind me, it was a lovely location!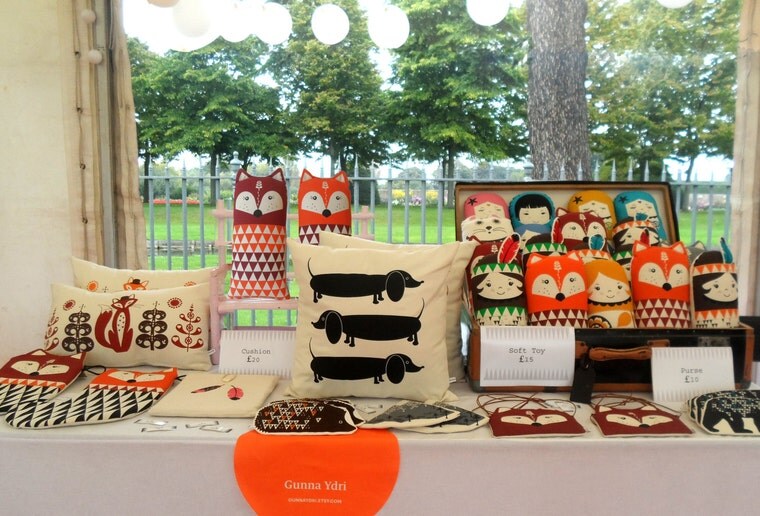 Wednesday, 17 September 2014
Photo of my Native American and the fox soft toy (mini cushion) in kids play room.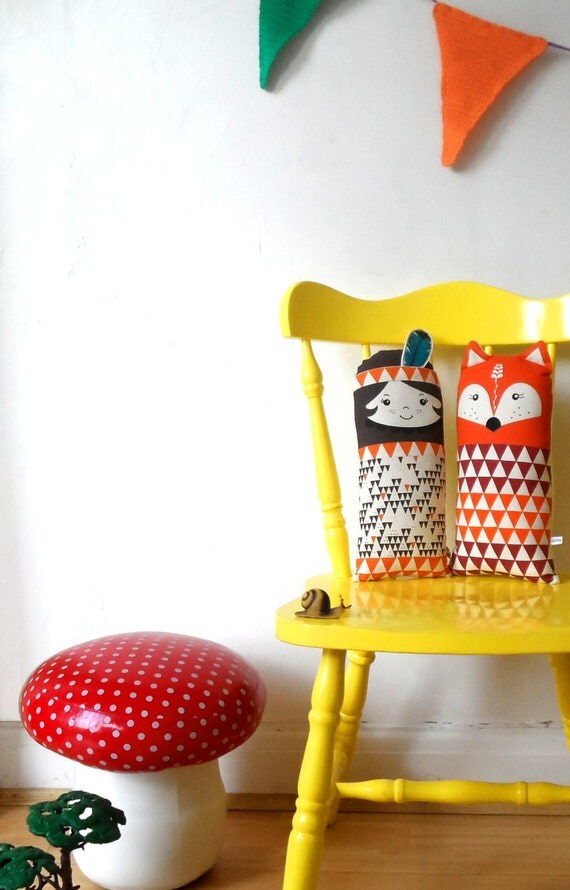 Wednesday, 10 September 2014
I received my first conker on my head this morning, Autumn has arrived
and so has my new soft toy fox!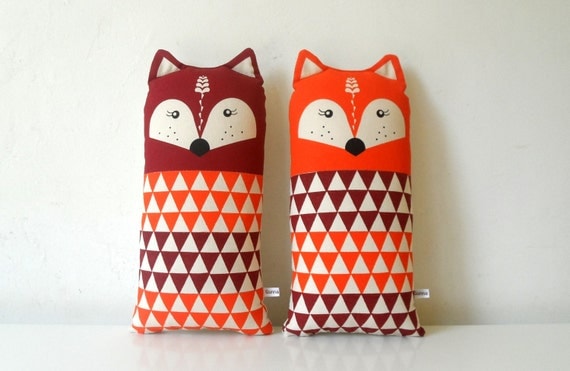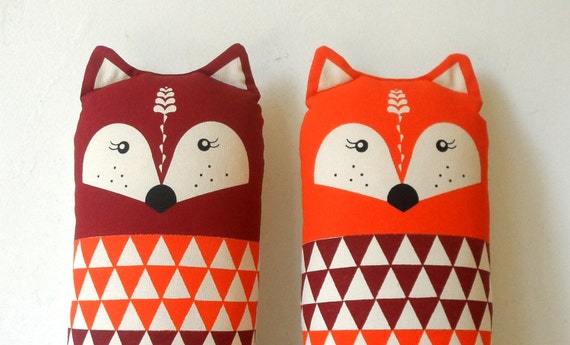 Here is my new fox purse.
Ready for any small thing finder!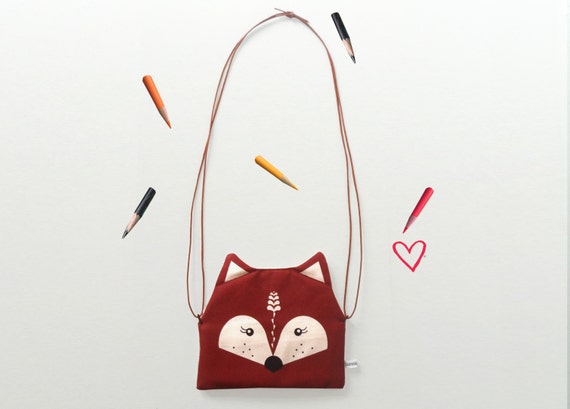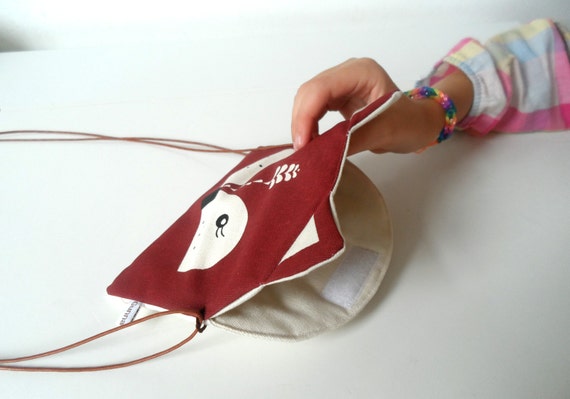 Our new Christmas fox stocking available soon in my Etsy shop!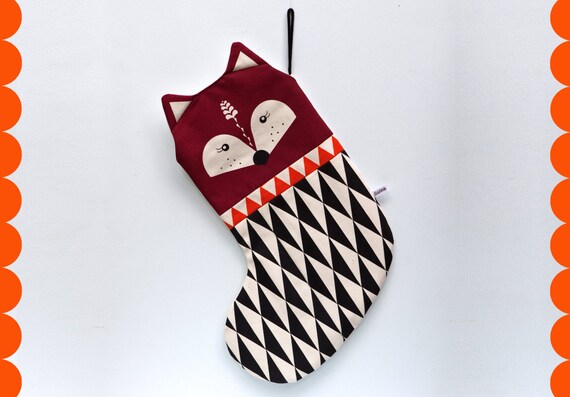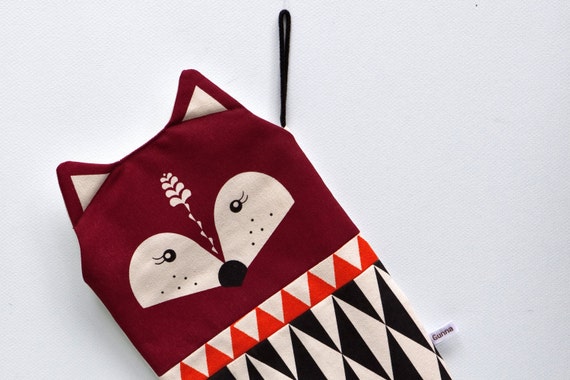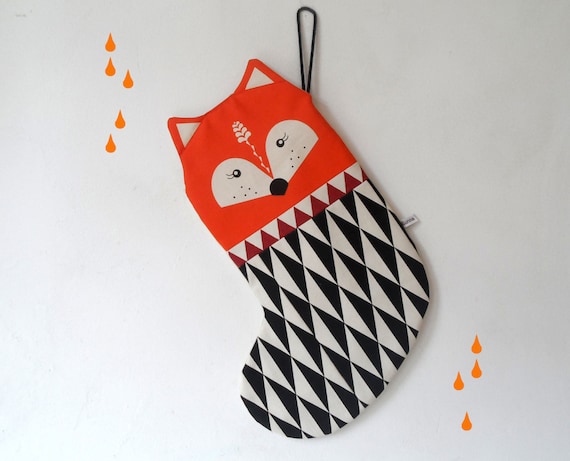 The Native American purse bag has proven very popular and has sold out.
I will be printing some more shortly!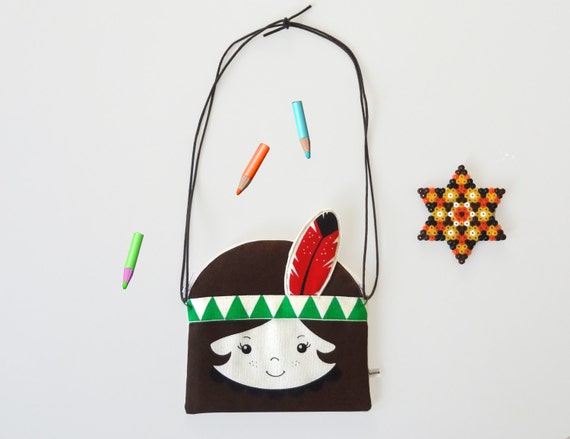 Tuesday, 9 September 2014
The summer is over, what a shame!
We enjoyed long summer evenings and splashes in the sea!
Eating all of our meals out in the open, I miss those days!
Here are some photos of our new mermaid doll, she will be available in diffrent colourways.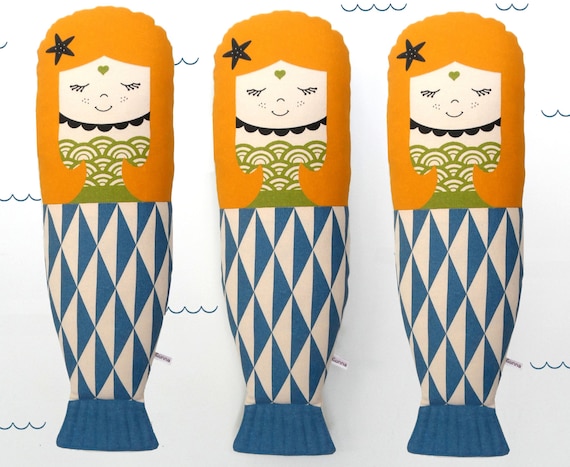 She has been printed with pigments with a touch of sparkles!
We all need a bit of sparkles in our lifes!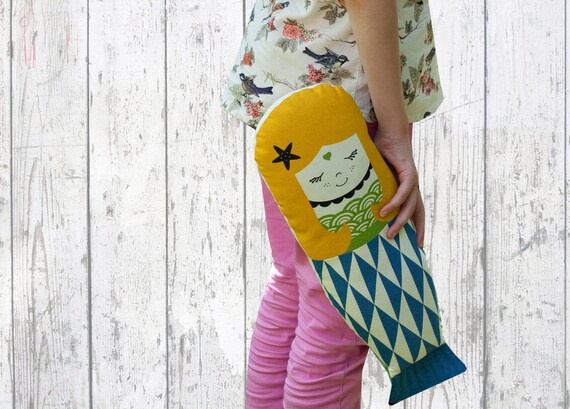 These cute rabbits will be available in diffrent colourways and sizes soon in my Etsy shop.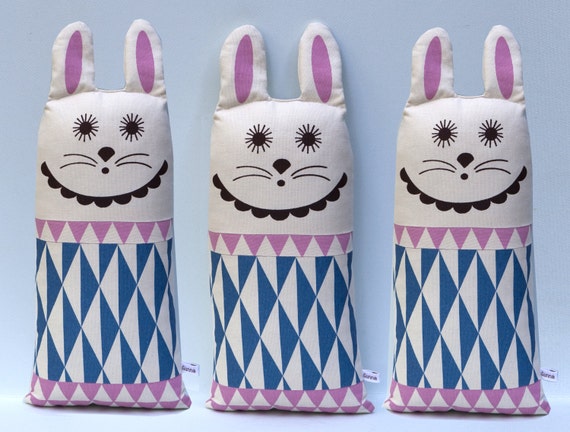 Wednesday, 7 May, 2014
Over the past few weeks I have been printing and sewing some new colourways of my Native American dolls.  
They will look fab in any kid's bedroom!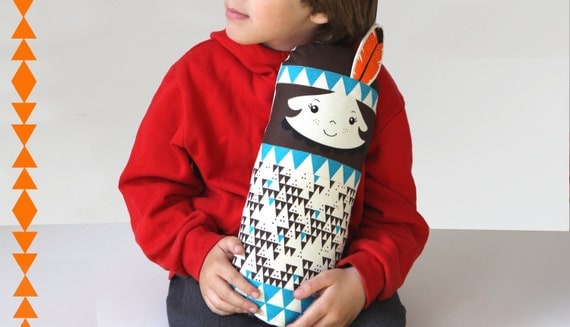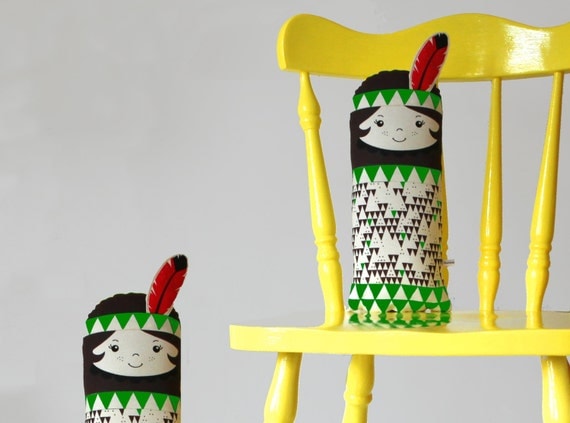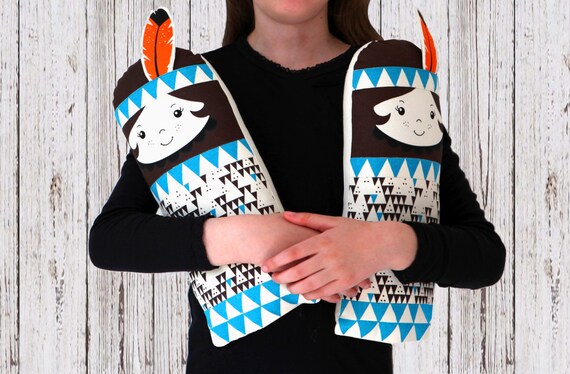 Saturday, 11 January, 2014
These Eskimo dolls were printed and sewn over Christmas.
Since I have some distant family on Greenland, I thought it would be fun.
They can also be used as a mini cushion.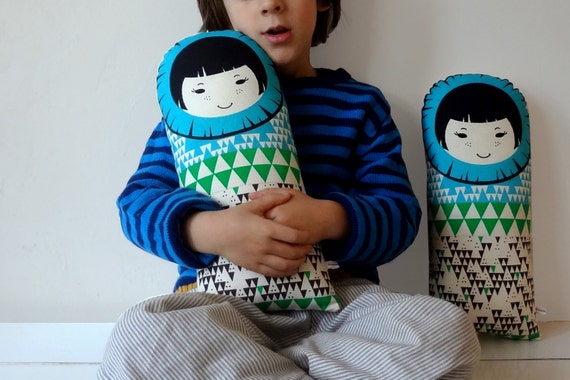 Friday, 10 January, 2014  
We are in 2014, yes it is hard to believe!
During the Christmas holiday I have been busy working on different ideas to do with nature and the outdoors.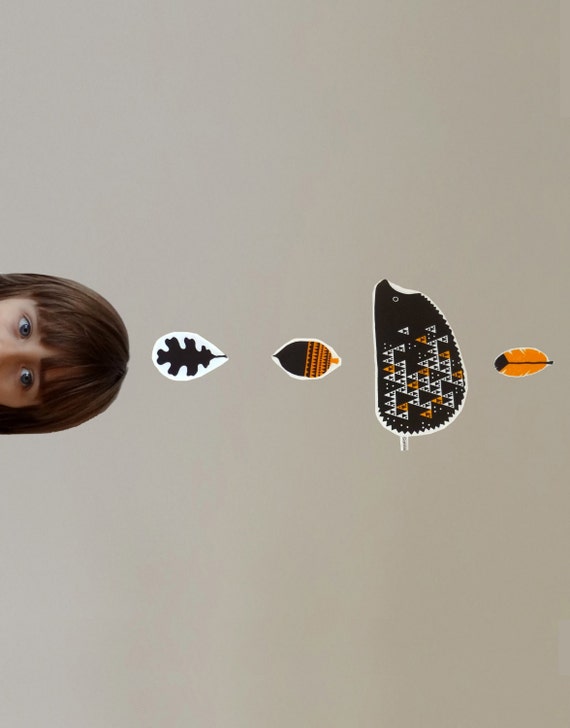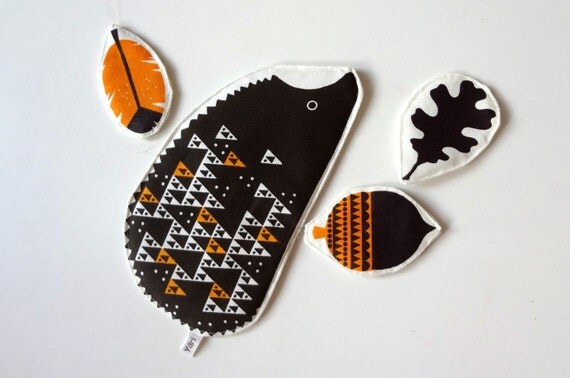 Here is a kids mobile which is for sale in my Etsy shop.
Mobiles are becoming very in especially in Denmark, they are used as a feature or as purely for decoration.